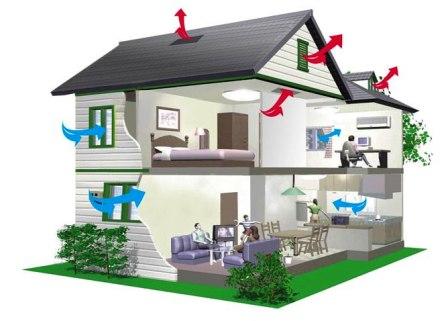 Cool your home naturally with a whole house fan
Whole house fans, also known as house fans or attic fans, take advantage of Colorados cool night air. The fans bring in cool air from open windows or doors to give you a nice cool breeze all night long. These not only cool off your home but also push the hot air out of your attic so you start the day with a cool house and a cool attic.

Vent Masters is Colorados source for quiet, energy efficient whole house fans. Not your Grandpa's house fan, with the big noisy propeller over your head, these modern fans are the next generation of whole house fans. With insulated dampers that close when the fan is turned off, these new whole house fans make other styles seem old fashioned.
Come by our showroom so you can see and hear for yourself.

We are fully stocked with QuietCool, QA Deluxe, and CentricAir whole house fans for the home handyman or the professional installer.
Our prices are listed on our Whole House Fan page.
You can also purchase a fan on our online store and select "Local Pickup" when you check out.
---
Attic Ventilation
Whether or not you have a whole house fan, you still need good attic ventilation. The attic gets really hot in the daytime and that heat needs to get out.
Roof vents are needed to let out the hot air. Soffit or low intake vents are needed to let in cooler air.
Check out our video by clicking on the image.
---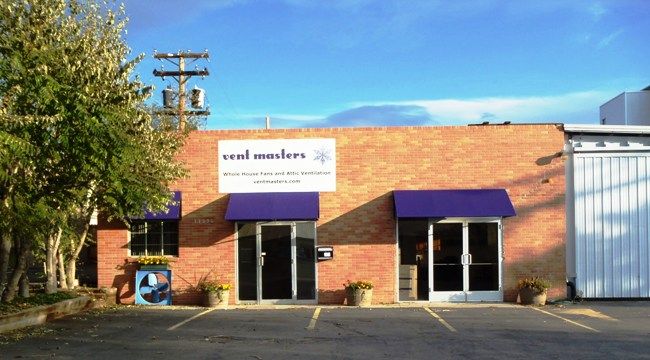 Why Choose Vent Masters?
We have a Showroom so you can see and hear before you buy
We stock 3 different brands of Whole House Fans
We are Attic Ventilation Experts
We use Licensed Electricians
We give free written estimates in advance

We have 5 operating whole house fans in our Showroom. Instead of looking at pictures on a brochure or a website, you can get a closeup look. Your can turn the fans on and off and hear the differences in the sound level.
Vent Masters specializes in both attic ventilation and whole house fans. Many people will install a whole house fan but very few tradesmen are expert at attic ventilation. These fans will not work if you do not have enough attic ventilation. Some installers will tell you that modern building codes require attic ventilation. However, these codes did not come into effect until 1998. Other installers will add a few large dome vents on your roof. This will let the fan run better but does not do much to help your ventilation when the fan is not running. Vent Masters will maximize and balance your attic ventilation system by adding roof and/or soffit vents as needed so your attic will stay as cool as possible when the fan is not running.
We do onsite estimates. You cannot see ridgevent or gable vents or soffit vents from Google Earth. We cannot do an accurate ventilation estimate sitting at our desk.
---
TESTIMONIALS
We do not list testimonials. They are too easy to fake.
For real reviews, check us out on Facebook or Angies List or Yelp or the BBB or any other social media site.
Click on the icons below to go to their website.
Closeups

Images of Vent Masters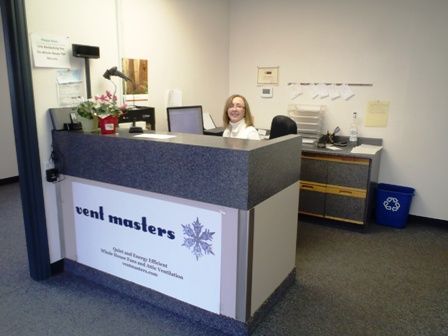 Front Reception Desk
Doreen commands the office.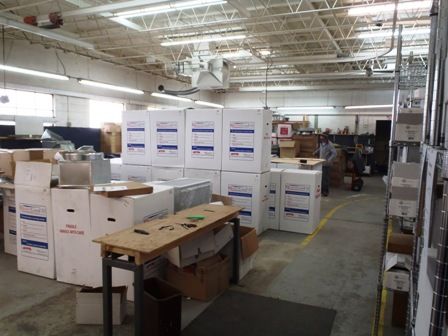 Fan and Vent Warehouse
We like to keep a good supply of fans and attic vents on hand.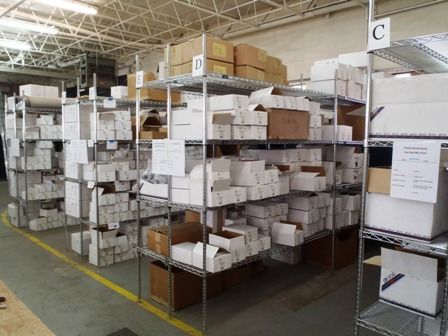 Small Vents In Stock
On this side of the warehouse we keep the small round vents we sell on our online stores.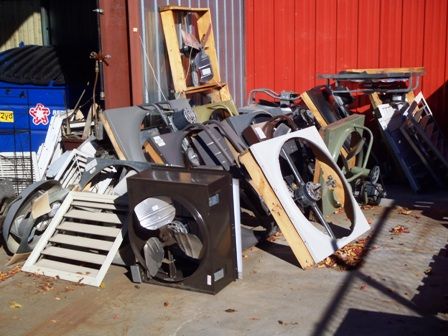 The Boneyard
at Vent Masters. These are old fashioned fans we have replaced recently with QuietCool fans.
These will be disassembled and recycled.